Test and Services Offered
The following tests listed are offered by appointment:  ACT, CLEP, SAT, ATI TEAS and TSI. Proctoring services are also available for outside institutions or agencies by appointment for a service charge of $15.00.
Fall / Spring – Monday-Thursday: 8:00 AM to 5:00 PM
Summer – Monday-Thursday: 8:00 AM to 5:00 PM
If you need the Testing Instructor Page – Click Here
For additional information regarding the tests listed, select a section below.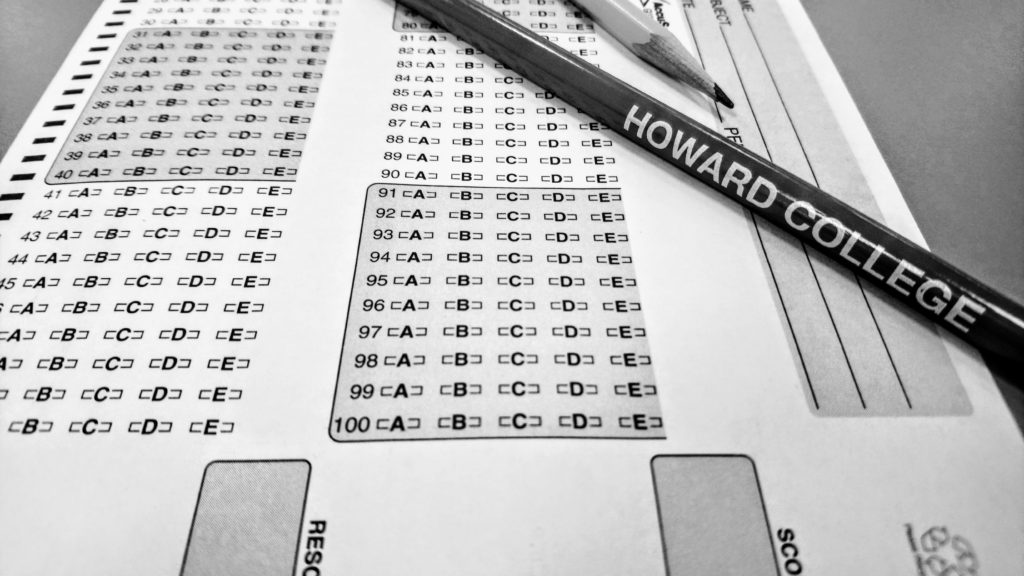 Please direct all testing inquiries and requests to testingbs@howardcollege.edu, or call us at (432) 264-5637.  Elizabeth Palomino, the Coordinator of Testing, will be happy to assist you.
Calendar
Nothing from November 28, 2020 to December 27, 2020.
SAT
Pre-registration is required.  To register for the SAT test and information about the SAT, visit their website at www.sat.collegeboard.org.
HiSET
The HiSET is a high school level assessment, approved by the State Board of Education, that allows an individual to earn a State of Texas Certificate of High School Equivalency as an alternative to the GED.  This assessment is offered all year round.  Pre-registration is required.  For information regarding available test dates, test fees, and to register, visit the HiSET website at https://hiset.ets.org.
Howard College offers free HiSET preparatory classes.  For information contact the ABE Department at (432) 264-5014.
Additional HiSET study materials are also available online at https://hiset.ets.org/prepare/materials.
ATI - TEAS
The ATI TEAS test is required for the Howard College Vocational Nursing Program and the RN Program. To register for the ATI TEAS and for preparatory information, visit the ATI website at www.atitesting.com. The ATI TEAS test fee is $97.00 before tax.
ACT
Pre-registration is required.  To register for the ACT Test and to obtain further information about the ACT, visit their website at www.actstudent.org.
CLEP
CLEP tests are offered all year by scheduled appointment. Pre-registration is required.  To register, and for information about the CLEP Test, visit their website at http://clep.collegeboard.org/. Payment for the CLEP Test is due at the time of registration.  This is also an additional Howard College Administration fee of $15.00 that is due on the day of testing.  
To obtain information and preparatory materials about the CLEP Test, click on the Official CLEP Test Resources link below.
For details specific to Howard College course equivalency and score requirements, see the Howard College CLEP Policy Flyer posted below, or follow the link to the Howard College Catalog.
NOTE: The CLEP policies listed here are Howard College CLEP policies. CLEP policies will vary for other institutions. If you are taking the CLEP test for another institution, it is recommended that you contact the other institution about their CLEP policies regarding accepted scores and transfer credit requirements prior to testing.
TSI
The TSI Assessment test is designed to help determine your level of skill in the areas of reading, writing and mathematics. It provides detailed information regarding your academic strengths and weaknesses.
The TSI tests are offered all year by scheduled appointment. To schedule an appointment, contact the testing center at (432) 264-5637. Cost for tests are $12.00 each subject.  For more information, see the links below:
TSI PRE-ASSESSMENT ACTIVITY
A MANDATORY Pre-Assessment Activity (PAA) is required before you can test. The Pre-Assessment Activity consists of a Pre-Assessment Video and a Pre-Assessment Quiz. 
The PAA can and should be completed prior to arriving at the test center.
When you are ready to begin the PAA please visit howardcollege.edu/tsi-paa
OFFICIAL AND FREE TSI STUDY GUIDES & OTHER INFORMATION
TSI Informative Brochure
TSI Free Web-Based Study App 
TSI Sample Questions 
TSI WritePlacer Sample Essays
Howard College Online Courses
The Testing Center at Howard College in Big Spring offers test proctoring for students taking online courses. If not directed here by the instructor, each student should confirm the suitability of the Test Center with the instructor prior to scheduling an appointment.
Due to limited space and resources, testing at our facility will be available by reservations only, made by following this link.
Availability is guaranteed after the student books an appointment. All students are required to schedule at least 24 hours before the desired time slot and are recommended to schedule earlier if availability is not flexible.
*Walk-ins are discouraged. Priority will be given to students with appointments. Those without appointments may not be accommodated.
All examinees will be required to present a non-expired state or federal government ID or a current school-issued ID prior to being admitted into the testing room.
No food, drink, personal electronic devices, or any other non-essential items are allowed in the testing room at any time. Any additional allowable resources permitted on the test are specified by the instructor, and students should be aware of what will be allowed.
The cost for testing is $15 per exam and must be paid in advance through the Business Office. The paid receipt must then be presented at time of testing.
 *This testing fee may be waived if the exam is for a Howard College course and the student is a registered Howard College student. Check with the center to see if this applies.
Note: ADA Accommodations requests must be approved first by the ADA Coordinator and then by the instructor before scheduling with the Testing Center. Any accommodations beyond additional time require special staffing and must be arranged well in advance. It is the student's responsibility to make those arrangements in a timely fashion.