Scroll through the timeline of how it all started at Howard College. 
Browse the photo album for our 75th Anniversary Celebration events. 
See what's coming up this year as we celebrate 75 years!
Campus Celebrations on Facebook Live
Tuesday, November 17, 2020: 75th Kick-Off – 10:00 am: Roof Project Ribbon Cutting in the Fireplace Room. 10:45 am: Howard College Adventure Trail Ribbon Cutting. 11:30 am: Softball Fieldhouse Groundbreaking at Foundation Field. – 75th Anniversary Ribbon Cutting/BS Chamber Alive after Five at PW Malone Arboretum & FB Live. 
December – January: San Angelo – SA Construction Trades Building and Celebration of 42 years. (Delayed due to COVID)
Thursday, January 12, 2021: Cactus Room – Grand Opening of the Cactus Room.
Saturday, April 10, 2021: SWCD-Fest – SWCD-Fest celebrating 40 years. (Delayed due to COVID)
April 23-25, 2021: Lamesa – Lamesa Chicken Fry Community Event/Wayne Smith Recognition Ceremony at Lamesa celebrating 48 years. (Delayed due to COVID)
September 30, 2021:
Campus events will be streamed live on the individual campus Facebook page at the times shown. 
San Angelo – 10:00 am: "Builders of San Angelo Workshop" Dedication. Nelson Davis "Building Futures" Scholarship Recognition. 
Lamesa – 1:30 pm: Dr. Wayne Smith Memorial Scholarship Recognition
SWCD – 3:30 pm: Unveil signage on Avenue C. McGary Regan Foundation Recognition. Dom Bonura Memorial Scholarship Recognition.
Big Spring – 4:30 pm: Big Spring Area Community Foundation Recognition. Greg Henry New Horizons Scholarship Recognition.
6:15 pm: 75th Gala
8:00 pm: Howard College Theatre presents: 13 Ways to Screw Up Your College Interview, A Short Comedy by Ian McWethy. Produced by special arrangement with Playscripts, Inc. (www.playscripts.com)When college recruiters at a prestigious university need to fill one last spot to keep their jobs, twelve eccentric, dimwitted and slightly-insane high school seniors are eager to come in for an interview. What seems like a simple task turns into a nightmare when the applicants turn out to be everything, but what the recruiters are hoping for. 

Tickets will go on sale Wednesday, September 22nd . $10 for adults, $5 for students.
Please Contact Cynthia Weeks at (432) 264-5161    
In the Hall Center for the Arts Auditorium
All performances will be socially distanced so seating is limited. Masks are encouraged, but not required.
75th Gala Livestream Recording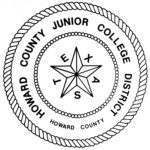 HCJCD Created - November 17, 1945
The Howard County Junior College District was created by a county-wide vote on November 17, 1945. Robert T. Piner, Dr. P. W. Malone, Mrs. J. E. Brigham, L. H. Thomas, A. J. Stallings, Leroy Echols and Otis Grafa, were elected on that same ballot to serve as a Board of Trustees with Robert Piner as president.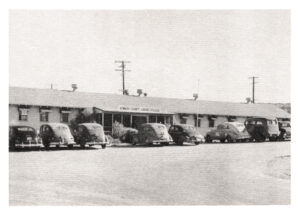 First Class - September 30, 1946
The college was first housed in the hospital unit of the former Big Spring Army Air Force Bombardier School. The first class was held on September 30, 1946 with a fall enrollment of 148 students.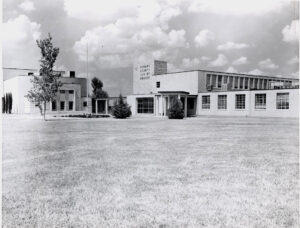 Big Spring Campus - September 12, 1951
On September 12, 1951, the college moved to its current location in Big Spring which included the new construction plus some temporary structures for a student union building and shops. On August 30, the trustees adopted a resolution admitting "all qualified applicants regardless of race, creed, or color."
Dorms and Student Union Building
A new student union building was built in 1958 thanks to a generous donation from the Dora Roberts Foundation. Dormitories for men and women as well as some mechanical buildings were constructed in 1962 through the use of revenue bonds.
Lamesa Campus
In 1972, Howard College began offering classes in Lamesa, located 45 miles north of Big Spring, at the request of its citizens. A building provided by Dawson County has been used since that time.
Dorothy Garrett Coliseum - June 19, 1975
On June 19, 1975, the voters approved a bond election in the amount of $1,500,000 for the construction of a multipurpose facility for the college and community. The facility was named the Dorothy Garrett Coliseum, affectionately known as "The Dorothy."
San Angelo Classes
The college offered its first courses in San Angelo, located 87 miles south of Big Spring, in 1978, utilizing space provided at Goodfellow Airforce Base.
SouthWest College for the Deaf Created
In 1980, the SouthWest Collegiate Institute for the Deaf (SWCID) was created and began offering classes. On May 14, 1981, the Texas Legislature recognized SWCID for funding purposes and placed it under the management of Howard College. In 2019, the name was officially changed to the SouthWest College for the Deaf.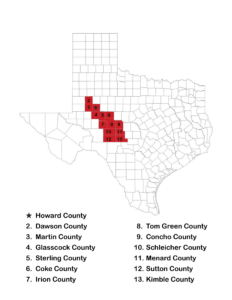 Service Area Established - 1993
The Texas Legislature passed Senate Bill 397 in 1993 resulting in service areas being established for community colleges in Texas. The Howard County Junior College District service area would expand from Howard County to include 12 other rural counties.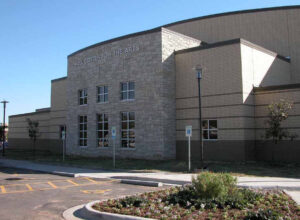 Greenhouse, Cottage, and Hall Center for the Arts
In 2004, through the generosity of Marie Hall, the original greenhouse was renovated, and an addition was added to house a new childcare center named Howard Cottage. Later, in 2006, again through the generous support of Marie Hall, the Hall Center for the Arts was completed offering state of the art fine arts and performing arts facilities for Howard College students.
G.C. Broughton, Jr. Ag Complex - 2013
In 2013, a three-phase project consisting of an open-air pavilion, show barn, and classroom building, was constructed thanks to the G.C. Broughton, Jr. Foundation. This unique facility, known as the G.C. Broughton, Jr. Ag Complex, partners the college agriculture program and the county extension programs to further serve the surrounding communities and students.